"I miss my family so much."
From the bottom of the stairs, I can hear Eliza crying. Tears often accompany bed time, especially if she should have been in bed an hour earlier. She's conversing with someone. Lately, an imaginary group of Care Bears have been her close associates. Assuming she's telling one of them of the tragedy that was her Mother abandoning her that night to go grocery shopping (gasp!), I make my way to her room.
Opening her door, I discover that my assumption was wrong. She's clutching a photo of my parents. Tears, not the type that stem from tantrums, were streaming down her face. They were crocodile sized. And I'm confident that the sight of them would've caused the grumpiest of misers heart to sink.
"You miss your Grandparents?"
"And my cousins, too!" She wipes her eyes and reaches her arms toward me. "I need someone to make me feel better." As I held her, I cheerfully outlined our plans for the following morning; which ought to have depressed her considering a trip to Dr. Martial Art/Lawyer/Pediatrician's office was on the agenda.
When preschool started, I made the choice to cut out her daily nap. Knowing she'd sleep in until 8:00 or 9:00, I didn't have a problem with letting her stay up. She consistently received 12 hours. Now that we have morning obligations, it's strange having both kids in bed by 7:00 or 7:30. I think Andrew kind of misses his late night popcorn buddy. Eliza is fair to allow for "quiet time" in the afternoon. It's not the same as having her asleep in her bed, but I'll take it. Not sure if it's related, but since the disappearance of her nap, there have been nights when she's woken up crying.
Sometimes there's a monster in her room. Other times, (like Monday night) she cried because she really wants to grow a carrot in the garden.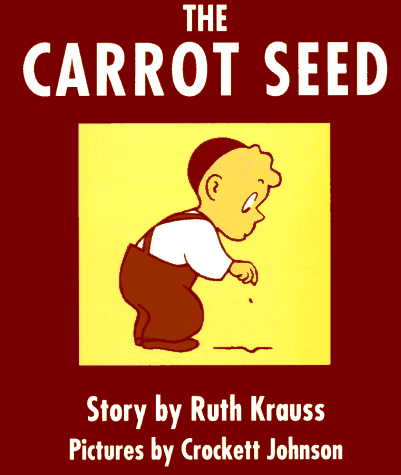 This book is currently on her night stand.
Waking up 5 minutes after my alarm was to have gone off, I quickly jump in the shower. Eliza wakes up enthused about our morning adventure. Mentally, she's totally prepared for the doctor to give her a "poke" - she almost seems excited. Odd.
Balancing Henry's breakfast with the styling of Eliza's hair, I take note that I probably should make time for toast. Placing my bread on the hard-to-see wet counter, I cringe. Soggy toast = bleh. When retrieving Eliza's breakfast bowl that morning, I noted an excess of water. Of course, my dish towels are upstairs in the dryer, waiting to be folded. Thinking she won't care once the milk is in there, I give the bowl a quick shake and forget about it.
Until, I placed my toast in the spot. Gross. Whatever. Let's be on time. We're 5 minutes early. Yes. Happiness.
"Oh, hey!" Says the receptionist whose complexion is perfection. "Nurse Kathy was looking for y'all at 8:20."
"That can't be right. Our appointment was for 8:50. I promise. I wrote it down."
"Well, why don't you take a seat. You might have to wait a while for them to squeeze you back in." I proceed to enter the COMPLETELY EMPTY waiting room. Two minutes later, my kids are taken back. Eliza is thrilled to be included in the check-up. As the nurse asks questions to gauge where Eliza is developmentally, I resist the urge to boast.
"Does she know at least one color?" ARE YOU KIDDING ME!
"Yes."
"Can she draw a circle?" The girl doodles the alphabet in her spare time. And writes her name, my name and Henry's. Not kidding. I can boast here. This is my space. Again, I respond,
"Yes Ma'm."
"Can she sing a song?" Eliza takes this as a request and delves into a preschool favorite,
Five Little Pumpkins
. After sitting through the entire song, Nurse Kathy claps for her. As the nurse returns to finish up her notes, Eliza, again on her own accord, begins singing,
I Am a Child of God
. Nurse Kathy, who is still focused on her paper work, gets misty eyed. In her defense, perhaps it was just allergies. As for me, I had goose pimples.
Eliza 3.5 year
32 lbs - 5o%
38 inches - 50 %
Henry 18 month
21 lbs - 5 % (for him, that's normal)
31.75 inches - 25%
My puppy has grown taller. Grateful my kids are deemed healthy and on track, we leave. What could have been perceived to be an awkward morning, I reflect on the positive. While sharing the updated stats with my Mom on the phone, I was reminded of the hellish morning my brother endured yesterday.
My brother is a police officer. Constantly astounded by his stories, I frequently marvel at his bravery. I wonder how he copes with the ugliness that he confronts on a daily basis. Not having permission to share the latest episode from his shocking and often times heart wrenching cop file, I will conclude with minimal detail.
After finishing up his night shift, he arrived home ready to crash. A call came in from dispatch. It was a neighbor. He was literally steps away from the emergency, which unfortunately infoved friends. He had to strike that balance between offering comfort to an erratic neighbor while carrying out the protocol that his profession demands. As the horrific scene unfolded, he maintained composure and became that pillar of strength that she needed in her time of crisis.
His job is horrible. His job is hard. His job is humbling.
He is heroic. These stories serve as a solemn reminder that I don't need to sweat the small stuff. I feel guilty when it takes a story like his to put things into perspective. Who cares about a soggy piece of toast or a late arrival at the Doctor's office (However, I still maintain that I was told 8:50).
Thanks for bearing with today's rant. My fingers were restless, my mind was shouting for the release.